Rigid backwall surfaces:
• Plywood
• Wallboard
• OSB
• Concrete Board
• Panel Board
• Concrete
• Masonry
• Stucco
• Backerboard
• Greenboard

Waterproof substrate Materials:
• Felt Grade Roofing Paper
• Waterproof building paper
• Housewrap

Reinforced Metal Lath :
Galvanized expanded
metal lath
Prepare the rigid back wall by reinforcing the wall structure for strong structural support and additional stone load. Adding a substrate barrier is required for all interior and exterior wall applications using mortar. This barrier will prevent moisture, corrosion and weather elements from penetrating beyond the veneer layer.

For interior/exterior walls: Nail or staple weatherproof roofing felt over the entire back wall and corners where veneer is planned. Then cover with expanded metal lath. Minimum 18-gauge galvanized expanded diamond mesh or woven wire mesh. Fasten lath with corrosion-resistant nails, staples, or concrete nails.

If you are working from an existing wall, be sure to clean off surface of loose debris. Fix any questionable areas of the wall to be structurally sound. For exterior walls, pressure-wash or sandblast or scrape off surface so it is free of oil, grease or old paint. Securely attach expanded metal lath over cleaned area.

For clean, untreated, unpainted concrete, masonry or stucco walls: Clean surface free of oil and debris. No further preparation is necessary.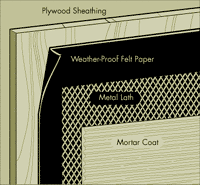 To prevent damage from weather elements, weather-proof construction felt paper is installed over the back wall surface. A metal lath layer is added to increase the integrity of the mortared wall from movement and cracking.